You don't have just any employees - show them your appreciation!
Would you like to give your team a special treat? Then the Minga Card is the right choice for you: as a tax- and social security-free benefit in kind, you can give your employees a very special treat. With a voucher card that not only looks good, but also bundles many benefits.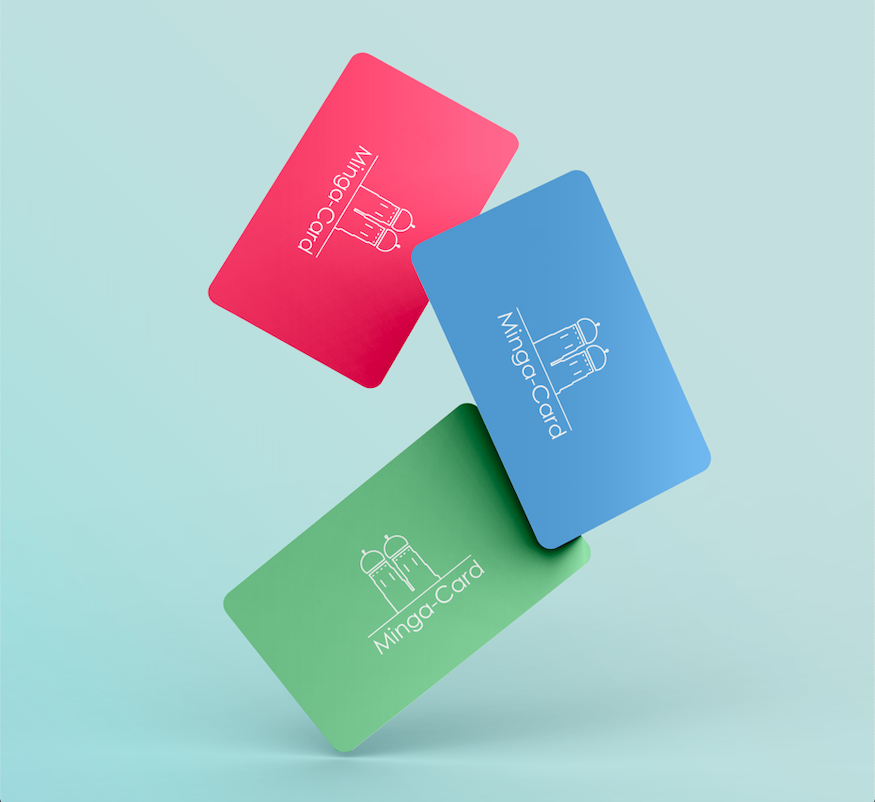 Remuneration exempt from wage tax and social security contributions
Did you know that 528€ per year and employee are exempt from income tax and social security?

That is 12 x 44€ tax-free benefit in kind per month and employee.
Did you know that €180 per year
and employee:in can be given away as an additional tax-free gift?

That's 3 x 60€ for personal occasions such as birthdays or anniversaries.
Total per year and employee
Did you know that with 708€ per year you can value your employees?

This is how you can promote, motivate and retain your talents.
The advantages for employers at a glance
EMPLOYER BRANDING 2.0
Create a unique corporate culture and increase identification with your company.
SAFE
With our Minga-Card you are on the legally secure side, as it fulfils the new legal requirements for benefits in kind.
STRONG DESIGN
No plastic! Inspire your team and your customers with our innovative look and feel and the unique app!
AUTOMATED
The Minga-Card can be ordered with just a few mouse clicks and can be easily reloaded automatically. 
CUSTOMISABLE
We will be happy to customise the Minga Card with your logo and send it with your personal greetings.
100% MUNICH
The Minga-Card offer is just as diverse as your team and your customers. So you can inspire everyone at once!
3 GOOD REASONS FOR THE MINGA CARD
- –
ONE CARD FOR ALL OCCASIONS
Whether it's a birthday, anniversary, promotion or wedding, the high-quality design of the Minga Card shows employees the appreciation they deserve and gives you, as an employer, a competitive advantage in the war for talent.
A MAP AS INDIVIDUAL AS YOUR TEAM
With the Minga Card, everyone can find something suitable. From gastronomy of all kinds to fashion, art and culture, design, decoration and living, beauty, wellness and sports, entertainment and delicatessen, there is something for everyone, young and old, male, female and transgender, queer and straight.
A CARD FOR ALL WHO LOVE MUNICH
With the Minga Card you strengthen Munich as an employer location and support our neighbourhoods in remaining as attractive and interesting as they are. Because they make the city worth living in for your employees. In the same way, you motivate your employees directly and sustainably. And as we all know, two is better than one!
The Minga Card is a great idea and we gave it away because we think it is important to support local retailers. The recipients were very happy about the diversity of Munich and are already looking forward to getting to know completely new favourite places with the Minga Card; and the best thing is that the local retailers are supported in the long term. The cooperation with the Regional Hero team was great and completely smooth!
We are happy to have found a really great employee gift with the Minga Card! Not only is there something here for every taste of our employees, but we also discover new favourite places in Munich and thus support the local businesses. A real win-win situation!